| | |
| --- | --- |
| | This Map game is now closed since it was not edited for 7 days in a row! |
| | |
| --- | --- |
| | This game is a version of a offical Althistory Wiki game! |
Game origins
Edit
IIt is licensed under the Creative Commons Attribution-Share Alike License.
Catergory: Althistory Wiki game variant under CC-BY-SA
The game was transwikied from- http://implausablealternatehistory.wikia.com/wiki/1200_AD_and_all_that_(Map_game)
Hello, and welcome to 1200 AD, the map game, choose a country ro create one from a list of tribes and nations, put in its proper continent/region, and play the game!
your welcome
Turns are as follow:
5 years per turn till 1750...
2 year turns from 1751-1800
1 year turns from 1801-1000
and after 1901 turns are in half years
1 nation per player
The game starts in 1200 AD, (obviously)
We have an algorithm
The game starts with-
There wuill be 5 Mods and mapmakers-
Current Map
Edit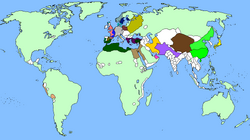 Changes, Issues, and Complaints
Edit
England: Local (talk) 06:27, July 4, 2013 (UTC) 
The Baques coutry: 
France:
Kieven Rus (Russia):  
Byzantine Empire: Willster22
Portugal:
Castille?/Leon?/Spain?:
Poland: TacoCopper
Sweden:
Norway:
Denmark:
Venice:  
Holy Roman Empire:  
Papal States:  
Naples: Sine dei gloriem (talk) 00:26, June 19, 2013 (UTC)
Persia:
Muhgal Empire:
China (North):
China (South):
Japan:Aktobe22 (talk) 02:26, May 25, 2015 (UTC)
Tibet:
The Ottoman Empire:
North America
Edit
Iroquois:
Aztec:
Mayans:
South America
Edit
Inca:90.244.88.27 18:26, April 6, 2012 (UTC)
1200-1205
Edit
| | |
| --- | --- |
| | This Map game is now closed since it was not edited for 7 days in a row! |
| | |
| --- | --- |
| | This game is a version of a offical Althistory Wiki game! |
Game origins
Edit
IIt is licensed under the Creative Commons Attribution-Share Alike License.
Ad blocker interference detected!
Wikia is a free-to-use site that makes money from advertising. We have a modified experience for viewers using ad blockers

Wikia is not accessible if you've made further modifications. Remove the custom ad blocker rule(s) and the page will load as expected.