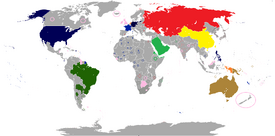 The Netherlands and its colonies and vassals Brunei, DNG, Aruba, St Maartin, Luban, Netherlands Antilles and Suriname all sign the 1970 Hague Treaty and found the Nuclear Non-Proliferation Treaty (NNPT) in order to stop the spread of nuclear weapons from its members to other nations that don't already have them. Arabia and Germany signed up later that year.
Most then grey (no-player) nations joined in 1970.6, and the rest Japan, S, Africa, Italy, Hungary, Cuba, Tripura and Haiti joined in 1971.
The USSR and its vassals also joined in 1971.5.
Japan in and Guatemala re-confirmed in 1977.5. 
Ad blocker interference detected!
Wikia is a free-to-use site that makes money from advertising. We have a modified experience for viewers using ad blockers

Wikia is not accessible if you've made further modifications. Remove the custom ad blocker rule(s) and the page will load as expected.