Phyrexia is a nation in the continent of Terra Meridium
Military
Edit
Most units in the army used muskets as their main weapon and daggers and pistols as their secondary weapon. While higher ranking commanders used Katanas and pistols.
The Navy used caravels to get around. Carracks and other smaller ships were used as well.
Air Force
Edit
Government
Edit
The nation is ruled by a king.
Industry
Edit
The nation is known for its farming. Many crops are farmed in the nation. Domesticated animals are also used by farmers of the nation. Fishing is big to within the nation. Processed foods are also made by skilled people. Clothing and wood working are important to the nation too. Pottery is important to the nation.
Colonies
Edit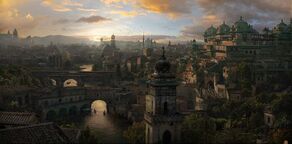 Ad blocker interference detected!
Wikia is a free-to-use site that makes money from advertising. We have a modified experience for viewers using ad blockers

Wikia is not accessible if you've made further modifications. Remove the custom ad blocker rule(s) and the page will load as expected.