Prince Natsuo, Duke of Kirschblüte (full name: Natsuo Toyama, Orientalian: 富山 夏生 Toyama Natsuo; 夏生親王 Natsuo-chinnō) is the adopted son of Princess Elisabeth, Duchess of Hoffmann. He is the son of Yukine Toyama, a victim of North Orientalia's secret police, the SSA, during the tenure of Saikō Michiko.
Due to changes to the Laws of Succession soon after his adoption by the Duchess of Hoffmann in 1013, Natsuo is in line to the throne of Neubayern. At first, Natsuo was fifth in line to the throne, after his adopted aunt, Crown Princess Helena, his cousins Princess Aria and Prince Nikolai, and his adopted mother; however, after his older brother Natsume was adopted into the family one year later, Natsuo was displaced to sixth in line.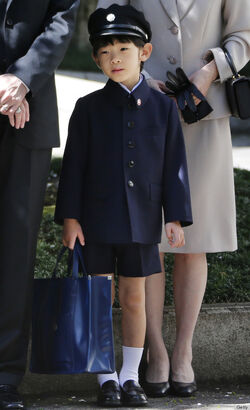 1012 — 1037: His Imperial Highness Prince Natsuo of Hoffmann
1037 — present: His Imperial Highness The Duke of Kirschblüte
His full title is...
German: Seine Kaiserliche Hoheit Der Herzog von Kirschblüte
Orientalian:

Hanji: 桜公爵夏生親王殿下
Kanaji: さくらのこうしゃくなつおちんのうでんか
Hangoji: 사쿠라노코싸쿠낱쇼친노덴카
Tonghab: Сакура-но-Кōшаку Нацуо Чиннō Денка
Romanisation: Sakura-no-Kōshaku Natsuo Chinnō Denka
Ad blocker interference detected!
Wikia is a free-to-use site that makes money from advertising. We have a modified experience for viewers using ad blockers

Wikia is not accessible if you've made further modifications. Remove the custom ad blocker rule(s) and the page will load as expected.