Imperial Parliament of the United Reich of New Bayern




Reichsparlament des Vereinigte Reiches der Neubayern

59th Reichsparlament

Coat of arms of Reichsparlament

Logo of Reichsparlament
Type
Type
History
Founded
8th August 871
Leadership

Monarch

President

Waldemar Frank, NLP
since 10th March 1050

Structure
Seats
600

Political groups

TBA
Elections
First-past-the-post

Last election

1050

Next election

1054 or earlier
Motto
Rat der Reich, Rat der Volke! (German)
Council of the Reich, Council of the People!
Meeting place
Volkshalle
The Imperial Parliament (German: Reichsparlament) is the national legislature of the United Reich of New Bayern. Its current President is Waldemar Frank of the National Liberal Party.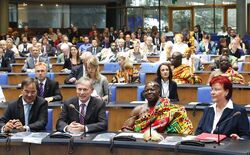 Ad blocker interference detected!
Wikia is a free-to-use site that makes money from advertising. We have a modified experience for viewers using ad blockers

Wikia is not accessible if you've made further modifications. Remove the custom ad blocker rule(s) and the page will load as expected.