| | |
| --- | --- |
| | This page is under construction. and is still being written! Any major unauthorized edits will be reverted. |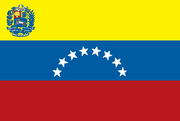 Venezuela is a country on the northern coast of South America with diverse natural attractions.
Venezuela is a federal presidential republic consisting of 23 states, the Capital District of Caracas and federal dependencies.
Capital: Caracas.
Currency: Venezuelan Bolívar.
Official language: Spanish.
Other languages: English, Italian, German, Portuguese, French, Arabic and Native American languages in a few towns and villages.
Religion: Roman Catholic and a few Native American cults in a few towns and villages.
Top exports- Fruit, wood, oil, gas and rubber.
Armed forces- 75,000. Mostly infantry and cavalry in 25+ light armoured cars or on horseback. Very little artillery, few aircraft and minimal navy beyond several old coastal defence gunboats.
Population- 7,500,000.
Presidents-
Rómulo Gallegos- 17 February 1948 -24 November 1948.
Carlos Delgado Chalbaud- 24 November 1948-30 November 1950.
Germán Suárez Flamerich- 30 November 1950 -2 December 1952.
Marcos Pérez Jiménez 2 December 1952 23 January 1958
Wolfgang Larrazábal 23 January 1958 14 November 1958
Edgar Sanabria 14 November 1958 13 February 1959
Rómulo Betancourt 13 February 1959 13 March 1964
Raúl Leoni 13 March 1964 11 March 1969
Rafael Caldera 11 March 1969 12 March 1974