Factions
Edit
Gondor
Mordor:bibleboyd316
Rohan
Isengard
Lorien
Dol Guldur
Eryn Lasgalen (Elves of Mirkwood)
Umbar
Dale
Bellakar
Erebor
Dunland
Lindon
Gundabad
Shire
Khand
Dúnedain of Arnor (Aragorns kinsmen) User:TheSlovakPatriot
Harnendor
Lossoth
Orcs of Moria and Goblin-gate
Rivendell/Imladris
Dorwinion
Saralainn
Haruzan
Rhudaur hillmen
Balcoth
Fangorn
Breeland
Ered Luin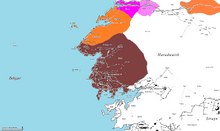 please be plausible.
1 faction per player,
1 turn= 3 months
there are types if units:

archers
infantry
cavalry
catapults
giants (trolls, ents)
monsters (Nazgul, Mumakil etc)
ships
on the unit map each faction has on its page there is a detail map of the units ( archers green, infantry yellow, cav orange catapult brown, giant dark green monster grey abd ship light blue) each 1 pixel large.
Ad blocker interference detected!
Wikia is a free-to-use site that makes money from advertising. We have a modified experience for viewers using ad blockers

Wikia is not accessible if you've made further modifications. Remove the custom ad blocker rule(s) and the page will load as expected.